Winter and cashmere…. the two practically go hand in hand! Every WIFE loves bundling up in those cozy cuddly sweaters and scarves, but unfortunately special laundered care comes along with it! Surely the majority of you wives  just drop your sweaters off at the dry cleaners and wave goodbye. However, for the select few of you who enjoy the task of laundry, THE WIFE has prepared step by step guide on how to clean your cashmere at home. Click "continue reading" for THE WIFE's Guide to Caring for Cashmere and the best products to use. -Taryn Cox for THE WIFE
Pre Treating:
De pill your cashmere sweater by combing the sweater with a sweater comb or stone.
Inspect the outside and inside of the sweater for stains and pre treat with a stain solution if nessecary.
Hand Washing:
Prepare a sink with cold or tepid water and measure out your desired cashmere wash solution.
Turn the sweater inside out and submerge it in water, gentley hand wash and soak for 15 – 30 minutes.
Disregard water and refill sink with clean water, place sweater into the sink to rinse out, repeat with clean water until detergent is gone.
Press out any excess water. NEVER wring the water out!
Drying:
Place sweater on a drying rack or lay the sweater flat on a clean towel to dry in its natual shape. -Taryn Cox for THE WIFE
In Between Washing:
Use a Cashmere Spray (like featured below) to harness bacteria properties, repel moths and keep your cashmere fresh and clean.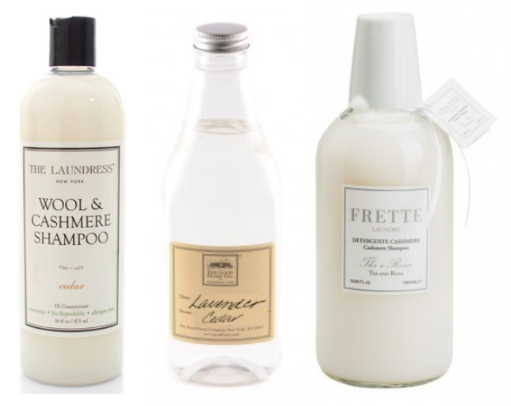 The Laundress Wool & Cashmere Shampoo, $ at Thelaundress.com; The Good Home Co. Lavender Cedar Cashmere Wash, $20.00 at Goodhomestore.com; Elisir Scented Cashmere Detergent, $65.00 at Frette.com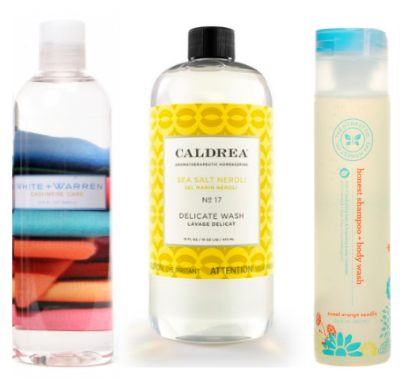 White + Warren Cashmere Care, $18.00 at Whiteandwarren.com; Caldrea Sea Salt Neroli Delicate Wash, $10.00 at Caldrea.com; Organic Baby Shampoo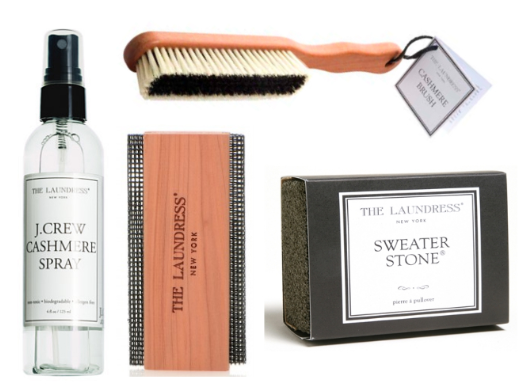 The Laundress for J. Crew Cashmere Spray, $10.00 at Jcrew.com; The Laundress Cashmere Brush, $60.00 at Thelaundress.com; The Laundress Sweater Stone (For Heavier Knits), $18.00 at Thelaundress.com; The laundress Sweater Comb (For Delicate Knits), $18.00 at Thelaundress.com