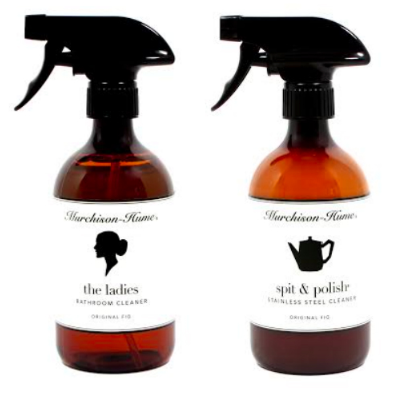 THE WIFE has a new favorite cleaning product to fill your home with, let us introduce you to Murchison Hume. You will be instantly charmed by their bottles and labels. Their "Ladies Bathroom Cleaner" will have you clamoring to polish your bathtub without the use of harsh toxic chemicals.
Max and Peter created Murchison Hume when their youngest son developed allergies to common household cleaners. Unable to find anything safe to use in their home, the company was born, designing cleaning products that are organic, all natural, authentically eco-friendly and biodegradable.
Murchison Hume is your one stop shop making cleaners for you: kitchen, bathroom, floors, furniture, wardrobe and more. From their "Cooks Soap and Lotion" to rid your hands of smelly foods when cooking to their "Bag Butler Spray" for cleaning and conditioning your Celine handbags or  "Bamboo Cleaning Caddy" for neatly storing your new products in.
THE WIFE Favorites: Ladies Bathroom Cleaner, $7.00; Counter Safe Spray, $7.00 and Effortless Floor Cleaner, $7.00; Visit Murchison-Hume.com to shop products now! -Taryn Cox for THE WIFE