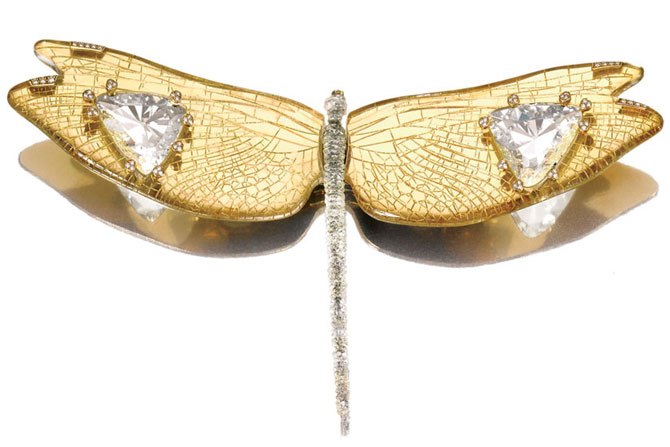 On November 20th, The Metropolitan Museum will open its first ever exhibition devoted to a contemporary jewelry designer. Known for being notoriously privately, the public will finally get to know New York Born, Paris based designer Joel Arthur Rosenthal, who works under the name JAR. New fans and collectors will get to enjoy a retrospective of more than 400 of the finest works by the acclaimed jewelry designer over the last 35 years.
From jewels in classical flower forms and organic shapes to witty objets d'art—all executed with the most exquisite gem stones, in an original combination of colors and set in variations of gold. Rosenthal's one-of-a-kind creations place him among the ranks of history's greatest jewelers.
Described as "the Fabergé of our time" (by Diane von Furstenberg), JAR opened his atelier in 1978 on the Place Vendôme in Paris, and has remained there until today.  His works quickly became known for their unique design, the quality of their stones, and their remarkable craftsmanship, but above all for their fearless beauty. He is known for his pavé technique—the setting of small stones so close together that they appear as a continuous surface of jewels—and uses subtle gradations of color to create a painterly effect.
JAR produces only 70 to 80 jewels each year, for an exclusive clientele. Rosenthal reportedly reserves the right to refuse to sell any item if he doesn't think it would look good on the intended wearer. The rarity and exclusivity of his pieces have allowed them to smash records at auctions.
Jewels by JAR, November 20, 2013 – March 9, 2014, visit Metmuseum.org for more information. See below to find out which JAR pieces are available for THE WIFE to collect for herself. -Taryn Cox for THE WIFE in collaboration with LoveGold
 JAR Pave Set Leaf Brooch with Emerald, Diamond , Peridots, Garnets, Citrines and Zircons mounted in Gold, available at Christies.com; JAR 18k Gold and Titanium Pansy Flower Earrings available at 1stDibs.com; JAR 18k Gold Geranium Leaf Earrings available at 1stDibs.com