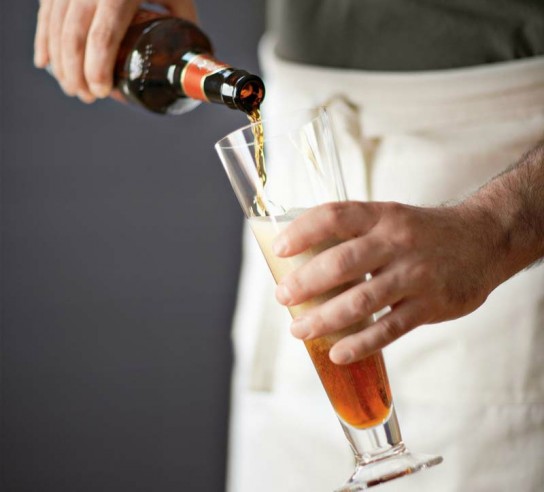 Pumpkin beers are traditionally brewed with pumpkin in the mash, and they're often flavored with fall seasonings such as cinnamon, nutmeg and allspice. I'm not sure if it was the change in season, which came with a nice drop in temperature, but I found myself really enjoying the differences of the various selections — and felt a sudden urge to roast some meat and eat some root vegetables. – Article By: Dennis Ayles, William Sonoma's resident beer expert.
Weyerbacher Imperial Pumpkin Ale – As you approach the glass to take your first sip of this brew, you may think you're getting ready to bite into a piece of pumpkin pie. It's not until you look back and see the dark amber hue of this beer do you remember you are about to sip a beer. This one was very well balanced, and I could even taste the crust of the pie.
Buffalo Bill's Pumpkin Ale – Per the bottle, Buffalo Bill claims to be the onewho revived this style of beer. I wouldn't be surprised — for the sweeter versions, this is one of the best. I was only able to try the Original Pumpkin Ale, but they also offer an Imperial verison in 22 oz. bottles that comes in at 9.8% ABV.
Blue Point Brewing Pumpkin Ale – This copper-hued masterpiece was a bit of surprise. I immediately smelled cinnamon with hints of the other spices you would find in pumpkin pie. Due to the strong scents, I anticipated the same when I took my first sip. I was pleasantly surprised when the flavors were much more subtle; the sweetness increased with every sip, making for a great choice.
Shipyard Smashed Pumpkin – Shipyard offers two different pumpkin beers, and I found this one to be the my favorite of the the two. This version has a great balance of the pumpkin pie taste, but with a more roasted profile. The higher alcohol content (9.0% ABV) and roasted malted flavor helps give it great weight over the tongue, even though you wouldn't expect so with its light amber color. – The Blender