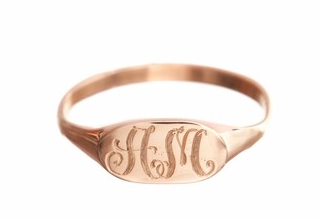 Signet rings can be traced all the way back to ancient Egypt and Rome, but became prevalent in England during the reign of Edward II. The signet ring was dipped in hot wax to seal, authenticate or stamp letters with a legal mark behind business, law and government until 1851…. Hence the term "Sign, Sealed, Delivered." It was in the 17th and 18th centuries they became increasingly popular as the ultimate mark of distinction and representation for noble families, while displaying the traditional crest or coat of arms.
The etiquette of wearing signet rings varies around the world. "In Belgium, men and women both wear signet rings upon the little finger of their left hand; however, in England and Ireland, it is only men who do so. In Switzerland, men wear signet rings upon the ring finger of their right hand, while in France, men use the ring finger of their left hand, and women use the little finger of their left hand." Here's a clever idea: give your husband a signet ring in lieu of a wedding band representing your families history.
If you're not a fan of wearing your family crest on your finger daily, it has also become trendy to monogram your initials on a signet ring (like photographed above). Regardless of how you decide to design your signet, it's a wonderful investment in a future family heirloom to hand down to generations to come. If your unsure of your family's crest the company, Rebus, offers a free service on their website to find your crest based on your last name. (mine is rooster)
When shopping for your signet ring they should always be made to order, as it should be special and represent your personal identity with the shape, dimension and weight. The majority of signet rings come in 9ct, 14ct, 18ct and 22ct yellow gold, rose gold or white gold. Lastly you have six distinct shapes to choose from: Straight Oval (the most traditional and  popular shape), Bulbous Oval, Round, Oxford, Cushion (Popular in Victorian Era) and Octagon(the most modern shape). If you're feeling extra creative you can also set your signet ring with your favorite gem or stone.
 Traditional signet rings for men or women, $399.00 – 1186.00 at ruffs.co.uk or rebussignetrings.co.uk. Women's monogrammed signet rings, $449.00 – $996.00 at sarahchloe.com -Taryn Cox for THE WIFE in collaboration with LoveGold.