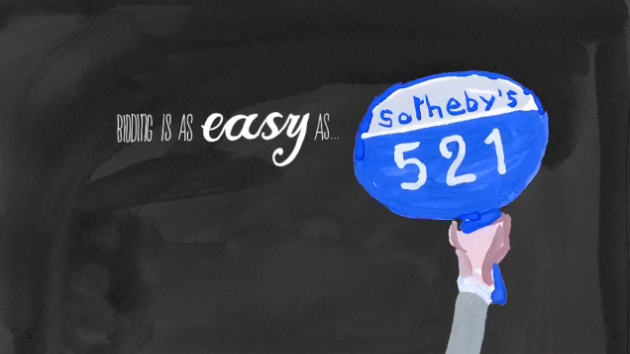 Every WIFE should be well versed in auction etiquette whether your preferred auction house be Sotheby's, Phillips de Pury or Christie's. If you're an avid collector chances are you are likely in the know with the key points below. However if you are new to world of auction houses, it can be a bit overwhelming. Here is guide to make your buying and bidding experience simple and seamless. – Taryn Cox for THE WIFE
1. CATAOLGUES: Choose the auction house of your liking and request a catalouge. If you're a new collector you can subscribe to catalogues, but they will most likely cost you (Sotheby's are $106.00 each, Christie's $50.00 and Phillips de Pury $35.00). However if you are a regular collector they send them to you free of charge. If you're looking to avoid paying for catalogues try browsing their e-cataolgues online. Also register your email for updates on upcoming sales in the specific catagory of your choosing.
2. AUCTION TERMS: Whether you are looking to buy or sell fine art, jewelry, antiques or other valuable properties, both buyers and sellers should know the glossary of terms and steps to ensure ownership of a desired object or a successful sale. Here is the Glossary of Terms.
3. PREVIEW: Attend the preview to inspect any purchases you are interested in. They are free and open to the public. Often pieces are sold "as is" which means there is no refund policy. Specialists will also be on hand at this time to answer any questions. If a lot is not available for inspection you can contact the auction house specialist to request a condition report, they should also be able to fax or email any report.
4. REGISTER: You may register in person or online 48 hours/2 days prior to the auction. Most salesrooms have a deadline 24 hours before the auction. On the day of the sale be sure to come 20/30 minutes before with your photo ID to complete any bidder registration and receive your paddle. Once you are registered you should then be assigned a client number for any future transactions made with the company.
5. ABSENTEE BIDDING: Absentee bidding requires your name, address, phone number and banking or credit information. Immediately after the auction, the auction house should send an invoice by post to all successful bidders. Winning bidders in online-only sales will be notified by email.
 Online: The major auction houses offers clients the ability to watch auctions online and place real-time bids through a live bidding platform. These site will most likely be: Bidnow.com, Lotfinder.com. You must register for live biding 24 hours in advance of the sale in order for the bid department to approve your registration. If you will be biding from a PC or MAC make sure you have a Flash installed.
Written Bid: You may also leave a written bid called a "comission bid" or "order bid" and a member of the auction house will try to obtain the piece at the lowest price possible. Your bid should be the largest amount you are willing to bid in the saleroom and can be changed 24 hours before the sale. Most absentee bid forms should be in the back of the auction house catalogue with further instructions.
Telephone: The last option is bidding over the telephone, space is very limited so contact the Bidding department to reserve as soon as possible. The telephone agent will relay your bids to the auctioneer during the live auction.
6. DRESS CODE: Although Daytime auctions are more on the casual side, I would recommend dresses for women and a button down dress shirt for men. Evening auctions tend to be more formal and elegant, so be sure to dress in cocktail attire.
7. AUCTIONS:  Most auctions move quiet quickly due to the number of lots involved. It is hard to predict when your lot will be up for auction, but the normal speed for an auctioneer is 60 – 100 lots per hour, but may vary. Wine may be sold at 200 lots an hour. The general rule is to be as quiet as possible so the auctioneer and phone bidders are not distracted. Everyone has their own style of bidding style, whatever your preference, decided before hand how much you want to spend and stick to it as bidding is very competitive and it's easy to get swept away in the excitment.  Simply raise your hand when submitting a bid, and raise your paddle only if you are the winning bid, so they may take your paddle number.
8. THE RESERVE: Some lots sold at auction are subject to a reserve, which is the confidential minimum price at which the property may be sold and which will never exceed the low-presale estimate printed in the catalogue. The reserve price is known only to the consignor and Auction House Company. Lots offered with no reserve are noted in the catalogue with a symbol after the estimate price.
9. BUYING: Proper auction etiquette requires a payment for your item as soon as possible. Don't delay, inspect your item and finalize your transaction. The successful bidder is required to pay a "Buyers Premium" this is the amount of money (usually 12% – 25%) automatically added to the "hammer price" or "final bid price" as part of the purchase. It is very important to read the Conditions of Sale and Limited Warranty in the back of the catalogue relevant to the sale and auction house. Payment is in currency of the salesroom location. Taxes may also be added to your purchase unless you plan to export your purchase, then you will need to find out about any import/export restrictions that may affect your purchase.
10. SHIPPING: At an extra cost auction houses will offer packing and shipping anywhere in the globe, whether it be an extravagent painting, diamond bracelet or large piece of furniture. we suggest you request a shipping estimate from your own carrier or from the auction house's shipping department before the sale. For online-only auctions, generally a shipping fee will be automatically added to your purchase price at the time of payment. In addtion some auction houses like Sotheby's will also offer insurance to cover your newly purchased item. – Taryn Cox for THE WIFE